Below is a compiled list of resources and useful links for everything related to CAS computer-based testing taking the exam at Pearson Vue. 
CAS Pearson Vue Information
CAS Pearson Vue Website
What you'll find:
Exam registration and scheduling information
Finding a Pearson Vue testing center
What to bring to the exam, including acceptable types of ID
Rescheduling and cancellation policies
CAS exam contact information
Sample exams and more
CAS Exam Registration
CAS Exam Registration Information
What you'll find:
Register for your exam
Exam dates
Registration and refund deadlines
First-Time Test-Taker Information
CAS First-Time Test-Taker Information
What you'll find:
What to know before your first CAS exam
CBT exam policies
What to know about the Pearson Vue exam platform
Tips for how much work to show when answering questions
Pearson VUE Helpful Resources and FAQ
Pearson Vue Helpful Resources for Test Takers
What you'll find:
What to know before the exam
What to bring to the testing center
What to expect during the exam
FAQ about the Pearson Vue testing experience
CAS Demo Exams
Pearson Vue Sample Spreadsheet and Function List
Pearson Vue CAS Sample Spreadsheet 
A blank spreadsheet that you can use to practice on
I recommend trying different problems and calculations on it so that you can get comfortable with the Pearson Vue spreadsheet environment and get used to the quirks and oddities compared to Microsoft Excel.
Pearson Vue Excel Function List  
List of Excel functions that work in Pearson Vue
Almost all Excel 2016 functions will work in Pearson Vue. It's only a handful of obscure functions and newer Excel functions like XMATCH() that won't work.
You don't need to use any particular functions to get full credit.
According to the CAS First-Time Test-Taker Info, "If a particular spreadsheet function is recommended to produce a result, candidates will be given instructions for its use, or a definition of inputs and outputs"
Other Helpful Links
Computer Based Testing (CBT) Tutorial 
Walkthrough of the CBT testing platform
Advice from a CAS Grader about the CBT Exam  
Details about what CAS exam graders are looking for and how to structure your responses to fully answer a question without wasting time showing redundant work.
FAQs
See the CAS FAQ below for answers to other common questions:
CAS Computer-Based Testing FAQ
What calculator can I bring to Pearson Vue for the CAS exam?
You can bring one approved calculator to the testing center.
The following calculators can be brought to Pearson Vue:
BA-35
BA II Plus
BA II Plus Professional
TI-30Xa
TI-30X II (IIS solar or IIB battery)
TI-30XS MultiView (or XB battery)
I recommend bringing a TI-20XS MultiView.
As an alternative, a BA II Plus Professional is useful for Exam 9 for checking financial calculations such as bond prices, present values of cash flows, IRR, NPV, YTM, …
Source: Pearson Vue / CAS Website
Can I use scratch paper on the exam?
The Pearson Vue testing center will give you a non-erasable, laminated notebook with five grid pages and a felt pen you can use for scratch work. You can request up to two additional notebooks if you need them.
Paper, pencils and pens are not allowed during the exam.
How will the style of questions
How will I see the reference tables and documents?
Reference items and tables like the standard Normal distribution table and rating manuals are loaded into the Pearson Vue spreadsheet.
One trick you should know:
There is a search function for the embedded PDFs. You can easily search for sections within the reference documents such as "Rule 13" in the ISO Table.
You can see them by clicking on the Tables button in the lower left corner: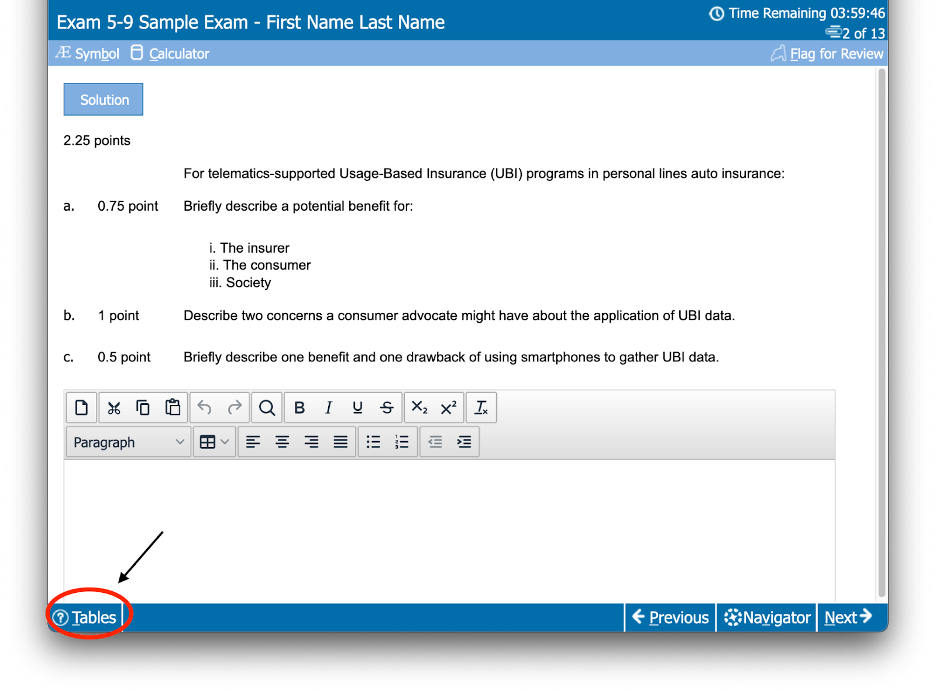 Do I need to do any graphs or drawing in the solutions?
No. Right now, there's no graphing capability in the Pearson Vue spreadsheet environment, so you don't need to do any graphing or drawing in your responses.
How should I structure my responses and how much work should I show?
Exam graders see your entire spreadsheet, so you can put your answer anywhere outside of the gray, boxed question area. Keep your responses well-organized and shown in a way that an exam grader can easily follow your thinking and approach.
Here are some additional tips from a CAS grader for how to set up your responses:
Keep your responses reasonably close to the question. This will help the grader to see how the cells of the data in the question are referenced in the formulas in your answer.
Write the high-level descriptions of your process for solving the problem and keep your work well-organized.
Show separate calculations for every major step so the exam grader can follow your approach.
You don't need to copy over numbers from the problem. It's better to just reference them from the question directly in your spreadsheet formulas.
Don't write out calculations in text as an attempt to show your work. Just do the calculations in the spreadsheet.
Finally, clearly answer the question. I would do this by making the solution cell bold or writing out your answer.